I bought a new digital scale yesterday so I could make sure my weight comparison is apples-to-apples from Day 1.
On monday I weighed 326 using the old scale. This morning I weighed 332 on the brand new one.
We'll see in a few days which number is closer to right — and the exact number isn't THAT important to me anyway.
What's most important is the trendline. Over time that number is going to come down no matter what it is now.
My Current Stats
Height: 6'4″
Weight: 332
Goal Weight: 250
82 pounds in 52 weeks is a tall order, but it's doable!
Calories Per Day
My limit will start at 2,632 calories per day.
I wrote out below how I came to this number, since anyone can do this:
Step 1: Calculate BMR (the calories the body burns just existing)
6'4″ Male, 332lbs, Age 37 — BMR is 2848.

Step 2: Multiply the BMR by a number based on your activity level.
For this I use the Harris-Benedict Formula. This gives a rough estimate of how much your body needs to "break even" in weight — no gain, no loss.
For now I'm Sedentary, which equals BMR x 1.2. So 20% higher than my BMR.
2848 x 1.2 = 3417 calories per day
I'm now taking kickboxing classes, so this multiplier may have to go up to the next tier soon (1.375), which would make the break-even count 3916 (a big 500 calorie difference for doing exercise)
Step 3: Determine how much weight I need to lose per week and reduce this calorie number to match
3500 calories = 1 pound. So to lose 1 pound per week, I would reduce that 3417 calorie number by 500 per day.
However, my goal is 82 pounds in 52 weeks. This is 1.57 pounds per week, so I need to eat 785 fewer calories per day.
3417 – 785 = 2,632 calories.
This makes my target calorie number 2,632.
Step 4: Test this number for a few weeks and adjust up or down until you find the number that works for you.
The number is meant as a guide. If you calculate that you should lose 1 pound per week, but you're not, and you're sure you're sticking to your diet — then maybe you would adjust the number down another 200 and test that for a few weeks.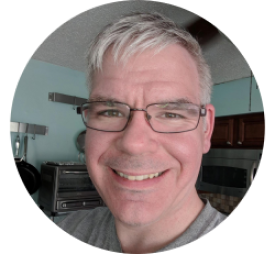 Craig Wall
IT Administrator and Facebook Marketer
Father of twin toddler boys. Husband to a BCBA and Clinical Director.
I lost 150lbs in my 20s, but struggles due to male PPD brought most of that weight back.
Follow me as I document my second run through massive weight loss.
Recent Posts
More recent posts from the blog: