SCCM 2012 R2: Windows PE Reboots Immediately After Loading
I have been working with System Center Configuration Manager to image a new model computer, and I ran into an issue that hit me when I set this up in my home lab too:
The client computer PXE boots into WinPE fine, but when WinPE loads, it reboots the computer before any dialog boxes show up. This loop would prevent any task sequences from being run.
Adding Network Drivers to the Boot Image For Your New Computer Model
A common cause of failure at this stage is that Windows PE doesn't have valid network drivers for the machine you're trying to image. This is what happened in my case. To add those drivers:
Load the Configuration Manager console on your SCCM server
In the Software Library section of the console, under Operating Systems, click on Boot Images
Right-click the appropriate boot image and click Properties.
The above image shows the properties of a boot image with no drivers added. Click the yellow sun-looking symbol on the top-right to add drivers to the boot image.
NOTE: In order to add a driver to your boot image, an appropriate network driver must have already been imported to SCCM. If you need a guide to import a driver into SCCM, check out this Microsoft guide to managing drivers in SCCM.
Once you click OK on that screen and hit Apply on the Properties screen to apply changes, you'll see the following popup: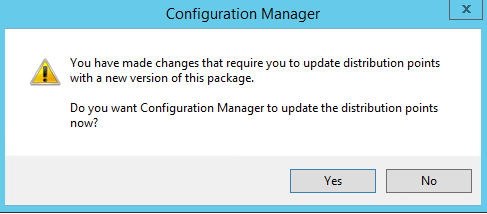 Boot images are put into production by being assigned to distribution points (servers). When they're assigned, copies are delivered to each distribution point. Updating the boot image in the Console doesn't automatically update the copy on those distribution points. Luckily, SCCM reminds you and offers to initiate that update before you back out of the properties screen.
Once those distribution points are updated, PXE boot your client back into Windows PE. It should now start loading some menu screens.