[et_pb_section fb_built="1″ fullwidth="on" admin_label="Interior Hero 2″ module_class="sfly_interior sfly_interior_hero_2″ _builder_version="3.22″ background_color="#000000″ bottom_divider_style="ramp2″ bottom_divider_color="rgba(0,0,0,0.1)" bottom_divider_height="90%" bottom_divider_flip="horizontal" bottom_divider_height_tablet="66%" bottom_divider_height_phone="66%" bottom_divider_height_last_edited="on|phone" locked="off"][et_pb_fullwidth_header title="@ET-DC@eyJkeW5hbWljIjp0cnVlLCJjb250ZW50IjoicG9zdF90aXRsZSIsInNldHRpbmdzIjp7ImJlZm9yZSI6IiIsImFmdGVyIjoiIn19@" background_overlay_color="rgba(77,93,251,0.9)" module_class="sfly_fullwidth_header" _builder_version="4.9.3″ _dynamic_attributes="title" title_font="|700|||||||" title_font_size="48px" content_font_size="18px" background_image="https://milo.madebysuperfly.com/wp-content/uploads/sites/50/2018/08/developers3.jpg" parallax="on" custom_button_one="on" button_one_text_color="#000000″ button_one_bg_color="#ffffff" button_one_border_color="#ffffff" button_one_font="|700|||||||" button_one_use_icon="off" custom_button_two="on" button_two_font="|700|||||||" button_two_use_icon="off" custom_padding="60px||50px||false" animation_style="fade" animation_duration="1500ms" title_font_size_tablet="36px" title_font_size_phone="24px" title_font_size_last_edited="on|phone" button_one_text_color_hover="#ffffff" button_two_text_color_hover="#ffffff" button_one_border_color_hover="#ffffff" button_two_border_color_hover="#ffffff" button_one_bg_color_hover="rgba(255,255,255,0)" button_two_bg_color_hover="rgba(0,0,0,0)" button_one_text_size__hover_enabled="off" button_two_text_size__hover_enabled="off" button_one_text_color__hover_enabled="on" button_one_text_color__hover="#ffffff" button_two_text_color__hover_enabled="on" button_two_text_color__hover="#ffffff" button_one_border_width__hover_enabled="off" button_two_border_width__hover_enabled="off" button_one_border_color__hover_enabled="on" button_one_border_color__hover="#ffffff" button_two_border_color__hover_enabled="on" button_two_border_color__hover="#ffffff" button_one_border_radius__hover_enabled="off" button_two_border_radius__hover_enabled="off" button_one_letter_spacing__hover_enabled="off" button_two_letter_spacing__hover_enabled="off" button_one_bg_color__hover_enabled="on" button_one_bg_color__hover="rgba(255,255,255,0)" button_two_bg_color__hover_enabled="on" button_two_bg_color__hover="rgba(0,0,0,0)"]
[/et_pb_fullwidth_header][/et_pb_section][et_pb_section fb_built="1″ admin_label="Feature 14″ _builder_version="4.0.5″ background_color="#ffffff" custom_padding="2px||0px|||" locked="off"][et_pb_row column_structure="1_2,1_2″ _builder_version="4.0.5″ custom_padding="||0px||false|false" border_width_bottom="1px" border_color_bottom="#d9c6a4″][et_pb_column type="1_2″ module_class="column1″ _builder_version="3.25″ custom_padding="|||" custom_padding_tablet="||50px|" custom_padding_phone="" custom_padding_last_edited="on|tablet" padding_tablet="||50px|" padding_last_edited="on|tablet" custom_padding__hover="|||"][et_pb_blurb title="@ET-DC@eyJkeW5hbWljIjp0cnVlLCJjb250ZW50IjoicG9zdF9hdXRob3IiLCJzZXR0aW5ncyI6eyJiZWZvcmUiOiJXcml0dGVuIEJ5ICIsImFmdGVyIjoiIiwibmFtZV9mb3JtYXQiOiJmaXJzdF9sYXN0X25hbWUiLCJsaW5rIjoib2ZmIiwibGlua19kZXN0aW5hdGlvbiI6ImF1dGhvcl9hcmNoaXZlIn19@" use_icon="on" font_icon="%%258%%" icon_color="#ffffff" use_circle="on" circle_color="#4d5dfb" icon_placement="left" use_icon_font_size="on" icon_font_size="33px" _builder_version="4.0.5″ _dynamic_attributes="title,content" header_font="|700|||||||" header_font_size="20px" custom_margin="||-2px|||" header_font_size_tablet="" header_font_size_phone="18px" header_font_size_last_edited="on|phone" icon_color__hover_enabled="on|desktop" icon_color__hover="#13204d"]@ET-DC@eyJkeW5hbWljIjp0cnVlLCJjb250ZW50IjoicG9zdF9hdXRob3JfYmlvIiwic2V0dGluZ3MiOnsiYmVmb3JlIjoiIiwiYWZ0ZXIiOiIifX0=@[/et_pb_blurb][/et_pb_column][et_pb_column type="1_2″ module_class="column2″ _builder_version="3.25″ custom_padding="|||" custom_padding__hover="|||"][et_pb_blurb title="@ET-DC@eyJkeW5hbWljIjp0cnVlLCJjb250ZW50IjoicG9zdF9jYXRlZ29yaWVzIiwic2V0dGluZ3MiOnsiYmVmb3JlIjoiIiwiYWZ0ZXIiOiIiLCJsaW5rX3RvX3Rlcm1fcGFnZSI6Im9uIiwic2VwYXJhdG9yIjoiIHwgIiwiY2F0ZWdvcnlfdHlwZSI6ImNhdGVnb3J5In19@" use_icon="on" font_icon="%%260%%" icon_color="#ffffff" use_circle="on" circle_color="#4d5dfb" icon_placement="left" use_icon_font_size="on" icon_font_size="33px" _builder_version="4.0.5″ _dynamic_attributes="title,content" header_font="|700|||||||" header_font_size="20px" custom_margin="||0px|" custom_padding="||26px|||" header_font_size_tablet="" header_font_size_phone="18px" header_font_size_last_edited="on|phone" locked="off" icon_color__hover="#13204d" icon_color__hover_enabled="on"]@ET-DC@eyJkeW5hbWljIjp0cnVlLCJjb250ZW50IjoicG9zdF9leGNlcnB0Iiwic2V0dGluZ3MiOnsiYmVmb3JlIjoiIiwiYWZ0ZXIiOiIiLCJ3b3JkcyI6IiIsInJlYWRfbW9yZV9sYWJlbCI6IiJ9fQ==@[/et_pb_blurb][/et_pb_column][/et_pb_row][/et_pb_section][et_pb_section fb_built="1″ admin_label="Feature 14″ _builder_version="4.0.5″ min_height="695px" custom_margin="-1px|||||" custom_padding="25px||49px|||" locked="off"][et_pb_row use_custom_gutter="on" gutter_width="2″ make_equal="on" _builder_version="4.0.5″ custom_padding="0px|||||"][et_pb_column type="4_4″ module_class="column1″ _builder_version="3.25″ custom_padding="|||" custom_padding_tablet="||50px|" custom_padding_phone="" custom_padding_last_edited="on|tablet" padding_tablet="||50px|" padding_last_edited="on|tablet" custom_padding__hover="|||"][et_pb_text quote_border_weight="0px" _builder_version="4.9.3″ text_font="Poppins||||||||" text_text_color="#000000″ text_font_size="17px" quote_font="Poppins|800|on||||||" quote_text_color="#25e4a2″ quote_line_height="1.1em" module_alignment="left" saved_tabs="all" locked="off"]
Get that Pesky Column Name Back
[/et_pb_text][et_pb_text quote_border_weight="0px" _builder_version="4.9.3″ text_font="Poppins||||||||" text_text_color="#000000″ text_font_size="17px" quote_font="Poppins|800|on||||||" quote_text_color="#25e4a2″ quote_line_height="1.1em" header_2_letter_spacing="1px" module_alignment="left" saved_tabs="all" locked="off"]
Something I learned today while using Tableau Public that I wanted to jot down for later. 
The Problem: 
You have a table with a calculated column
You add that calculated column to your sheet, but there is no header for that column shown — so you can't sort by that calculated value.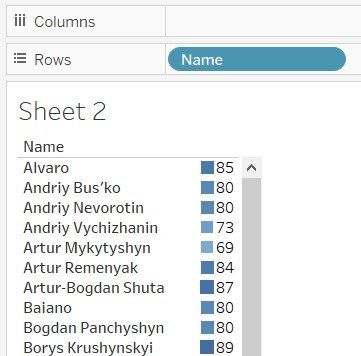 In this example (using data from Football Manager 2021), I have a calculated column for a set of player attributes. But the column heading for that calculation doesn't show up.
Solution: On the list of fields on the left sidebar, drag the "Measure Values" bullet over the calculated column. That causes the "Measure Values" bullet to show in Columns, and for the column heading to show up:
[/et_pb_text][et_pb_tabs active_tab_background_color="#ffffff" inactive_tab_background_color="rgba(0,0,0,0)" module_class="sfly_tab_phoenix" _builder_version="4.9.3″ tab_text_color="#000000″ tab_font="Josefin Sans|600||on|||||" tab_font_size="16px" tab_letter_spacing="4px" custom_css_tab="padding-top: 5px;" border_radii="on|6px|6px|6px|6px" border_color_all="#f2f2f2″][et_pb_tab title="Resources" _builder_version="4.9.3″]
The One-Click Trick to Creating Headers For Single-Measure Tables (Tableau.com blog post)
Download Tableau Public For Free
[/et_pb_tab][/et_pb_tabs][/et_pb_column][/et_pb_row][/et_pb_section][et_pb_section fb_built="1″ _builder_version="4.0.5″ use_background_color_gradient="on" background_color_gradient_start="#00e293″ background_color_gradient_end="rgba(38,226,161,0.72)" background_color_gradient_direction="78deg" background_color_gradient_overlays_image="on" background_image="https://milo.madebysuperfly.com/wp-content/uploads/sites/50/2018/09/collageAngle.jpg" min_height="709px" background_color_tablet="#f7f2e8″ background_last_edited="on|desktop" background_enable_color_tablet="on" background_enable_image_tablet="off"][et_pb_row _builder_version="4.0.5″ custom_padding="0px|||||"][et_pb_column type="4_4″ _builder_version="4.0.5″][et_pb_text _builder_version="4.0.5″ header_2_font="|800|||||||" header_2_text_color="#000000″]
More Posts
[/et_pb_text][et_pb_blog fullwidth="off" posts_number="3″ include_categories="103″ show_thumbnail="off" use_manual_excerpt="off" excerpt_length="0″ show_author="off" show_excerpt="off" show_pagination="off" offset_number="1″ _builder_version="4.9.3″ border_radii="on|10px|10px|10px|10px" border_width_all="0px" box_shadow_style="preset3″ box_shadow_blur="31px" box_shadow_spread="0px" box_shadow_color="rgba(0,0,0,0.2)"][/et_pb_blog][/et_pb_column][/et_pb_row][/et_pb_section][et_pb_section fb_built="1″ _builder_version="4.0.5″ custom_padding="||60px|||"][et_pb_row _builder_version="4.0.5″ width_tablet="" width_phone="100%" width_last_edited="on|phone" custom_padding="0px||0px|||"][et_pb_column type="4_4″ _builder_version="4.0.5″][et_pb_comments _builder_version="4.0.5″ background_color="#ffffff" custom_button="on" button_text_color="#ffffff" button_bg_color="#fc2560″ button_border_width="4px" button_border_color="#fc2560″ button_font="|700|||||||" button_use_icon="off" width="100%" module_alignment="center" custom_padding="50px|50px|50px|50px|true|true" custom_padding_tablet="" custom_padding_phone="30px|30px|30px|30px|true|true" custom_padding_last_edited="on|phone" custom_css_comment_avatar="width: 50px;" border_radii_image="on|50px|50px|50px|50px" button_border_color__hover_enabled="on|hover" button_border_color__hover="#000000″ button_bg_color__hover_enabled="on|hover" button_bg_color__hover="#ffffff" button_bg_enable_color__hover="on" button_text_color__hover_enabled="on|hover" button_text_color__hover="#000000″][/et_pb_comments][/et_pb_column][/et_pb_row][/et_pb_section]